People throwing colors, playing drums, dancing on the streets, greeting each other with sweets, that's the scenario if you visit India during the festival of Holi. India is a country of festivals. It encompasses people from different cultures and religions; hence a large number of festivals are celebrated throughout the year. Holi is one colorful festival that is celebrated in most parts of the country. That is the time when people ditch all their grudges against each other and wish happiness & love by playing with colors. Even foreigners love this festival and visit India on e-Visa just to enjoy this festival of colors.
If you are keen on knowing more about this festival, keep on reading as this festival holds much more than its name.
Why is Holi Celebrated?
Holi is observed every year, but do you know why we celebrate this day in the first place?
According to Bhagavata Purana (the holy book of Hindus), King Hiranyakashyap, the king of demonic Asuras has the gift that no man or animal will ever be able to kill him. This made him more arrogant with each passing day and he wanted everyone to worship him as God.
His son 'Prahlad' continued to worship Lord Vishnu against his father's biddings. Hiranyakashyap got infuriated and tried several attempts to end his son's life but all went in vain. Finally, he asked his sister 'Holika' who had a boon of not getting burnt in the fire to sit on a pyre with Prahlad in her lap. Holika was not aware that the boon will work only when she enters the fire alone. On the contrary, Prahlad kept chanting the name of Lord Vishnu, hence was saved due to his extreme devotion. Later on, Vishnu appeared in the avatar of Narasimha, half-man and the half-lion and killed Hiranyakashyap.
Thus, 'Holi' got its name from 'Holika'. It is celebrated as a festival of victory of good over evil and begins with the Holika bonfire.
Another story behind this colorful festival is when Lord Krishna had developed a distinguishing blue skin color after Putana, a demon, poisoned him with her breast milk. Krishna was concerned about his skin color and wondered if the fair-skinned Radha and her companions would ever like him because of his skin color. Krishna's mother then asked him to smear Radha's face with any color he wanted. That eventually evolved as a tradition and later celebrated as Holi, mainly in the Braj region of India.
When is Holi Celebrated?
Basically, Holi signifies the beginning of spring after winter. The festival is also considered as thanksgiving for a good harvest. Every year in March, Holi is observed on the next day of the full moon. In 2020, Holi will fall on March 10, with Holika Dahan on March 9. In West Bengal and Odisha, Holi takes place a day before while in Mathura and Vrindavan, the celebrations start a week or a month earlier.
How to Celebrate Holi?
Holi is one such festival where you don't need to look dressed up or wear new clothes, sooner or later everything is going to get ruined with the colors. The following day after the 'Holika Dahan' is over, you can indulge in play with colors & tinted water, attend Holi parties or events and dance your heart out to some of the most popular Bollywood Holi songs. Don't forget to get a taste of the Holi special snack i.e. Gujiya as well as Bhang– a paste made from cannabis plants that is consumed as a part of the celebrations. This festival just asks you to enjoy the day to its fullest and spread happiness to the people around you. Holi is complete fun if you don't mind getting wet and dirty.
However, you will find some of the people turning this colorful festival into a nasty one, be wary of them. Be ready with your old clothes and also rub coconut oil on your body properly so the color could be taken off easily the next day.
Where to Celebrate Holi?
Holi is generally observed in every corner of India. However, Holi is more exuberant in Mathura and Vrindavan where Lord Krishna is known to be born and brought up. Places like Pushkar and Jaipur in Rajasthan are also popular Holi destinations for tourists. If you are looking to have the best time on Holi, it depends on what kind of celebration you want to have. All sorts of activities take place on Holi ranging from traditional rituals, modern parties, DJs, bhang to plenty of colors, you just need to choose what allures you.
Traditional Holi at Mathura & Vrindavan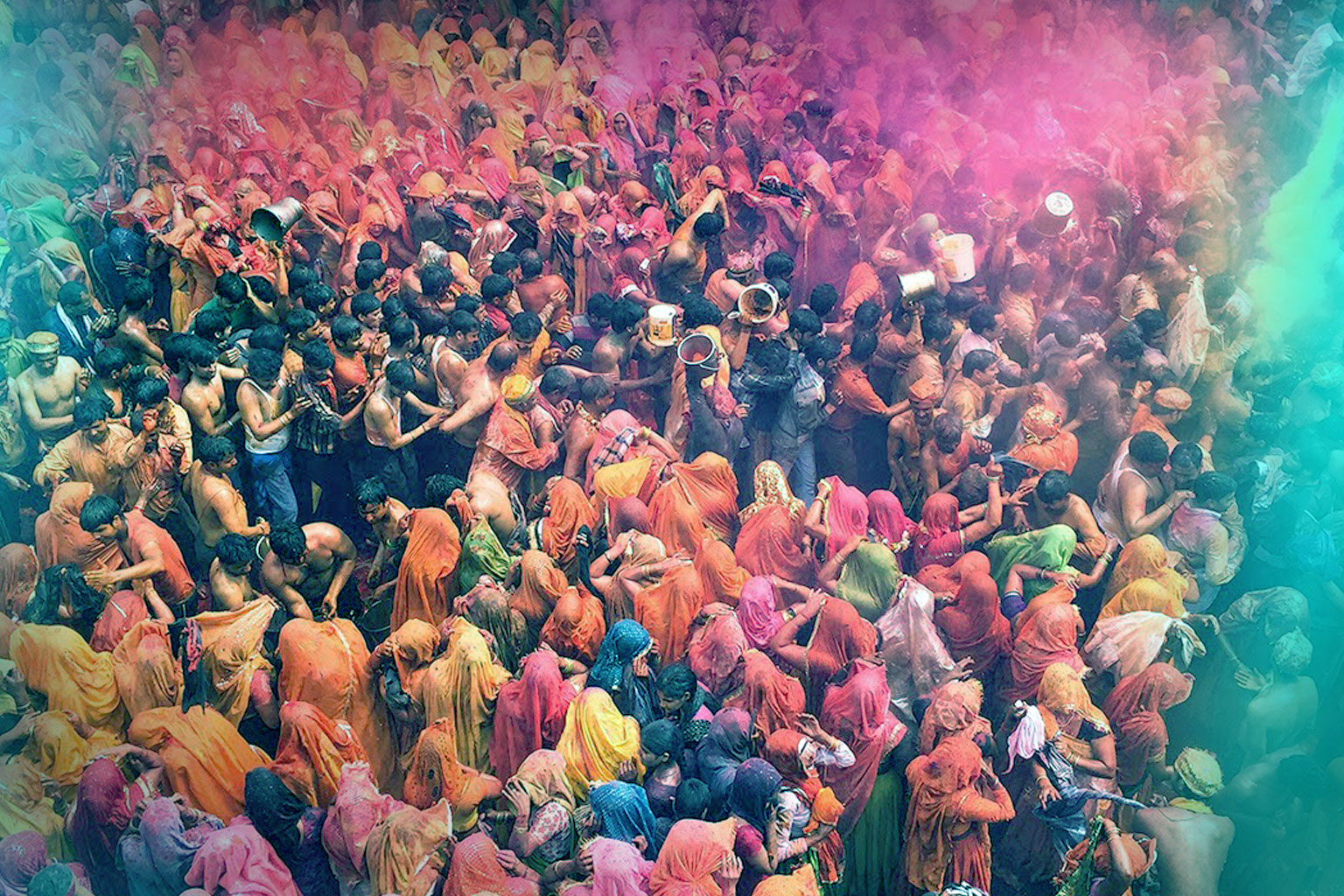 Holi celebrations start taking place 40 days before the main day in the temples and towns of Mathura and Vrindavan, four hours from Delhi. A week-long show is held in Mathura before Holi. At Banke Bihari Temple, the celebrations initiate with throwing flowers and culminate with colors on the day before Holi. A colorful Holi procession takes place from Vishram Ghat to Holi Gate and if you want to witness the best throwing of colors, go to Dwarkadheesh Temple in Mathura. Also, at Vishram Ghat, you will see priests making Bhang early in the morning.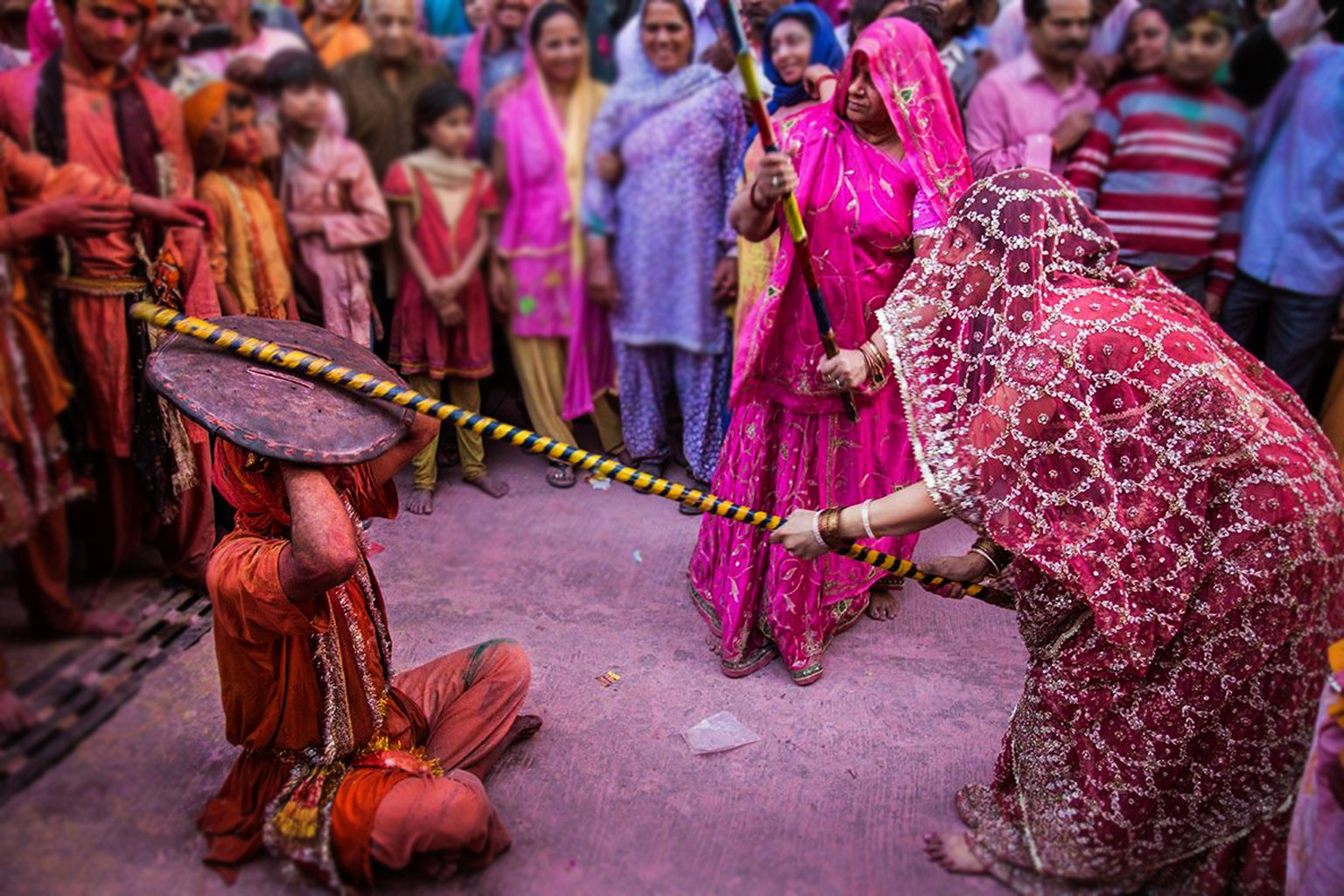 Indian men are known to dominate the house but on the occasion of Holi, the women of Barsana and Nandgaon villages near Mathura in Uttar Pradesh get a chance to beat up men with sticks, which is popularly known as 'Lathmar Holi'. It takes place in the week before the main day of Holi. You can also be a part of Laddoo Holi festivities when sweets are thrown around and spiritual songs related to Radha and Krishna are sung.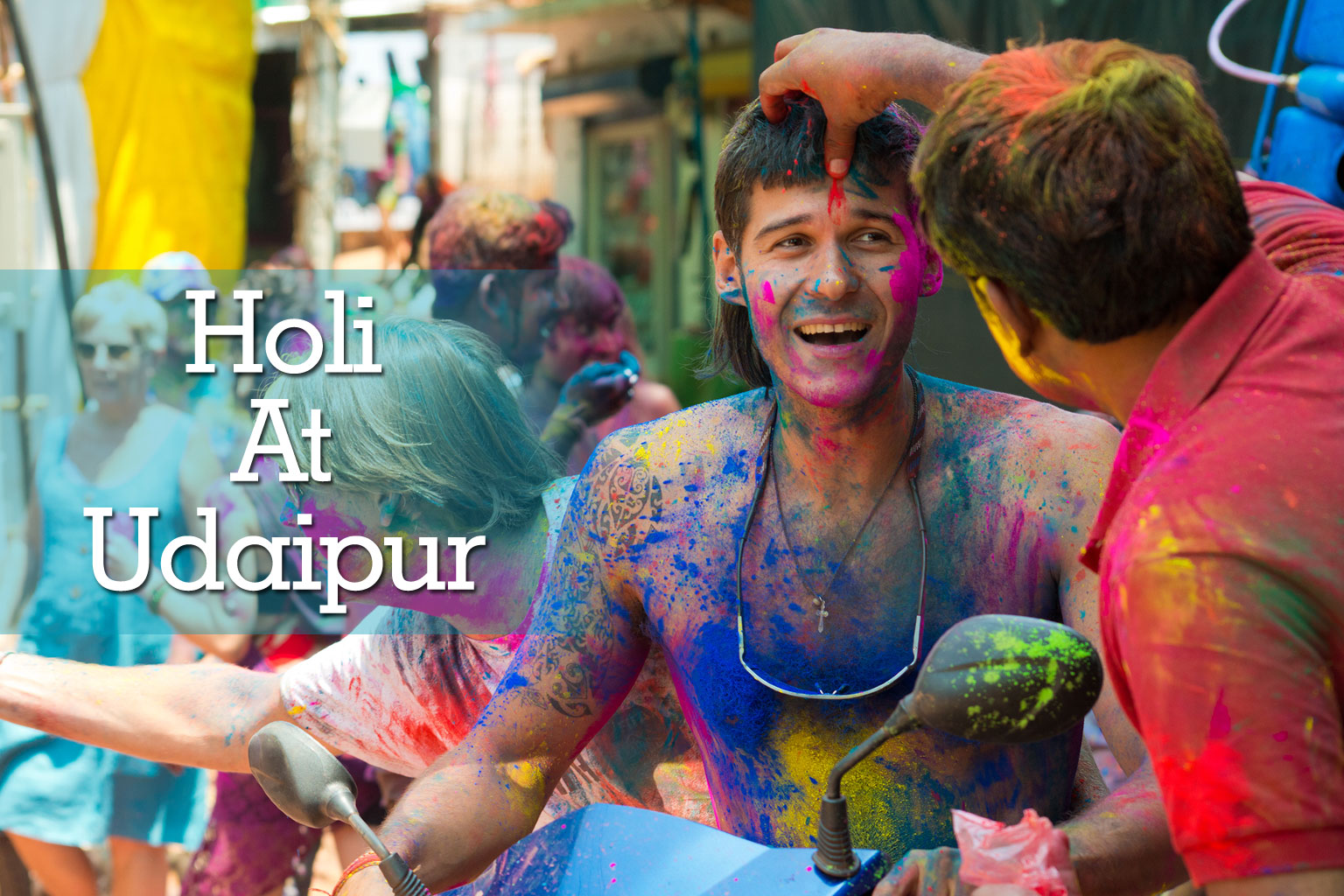 To ward off evil spirits, people light bonfires in a ritual called 'Holika Dahan'. You can also join the royal celebrations held by the Mewar's royal family. A glorious procession takes place from the royal palace to the city palace. The grand parade has a royal band along with decorated horses.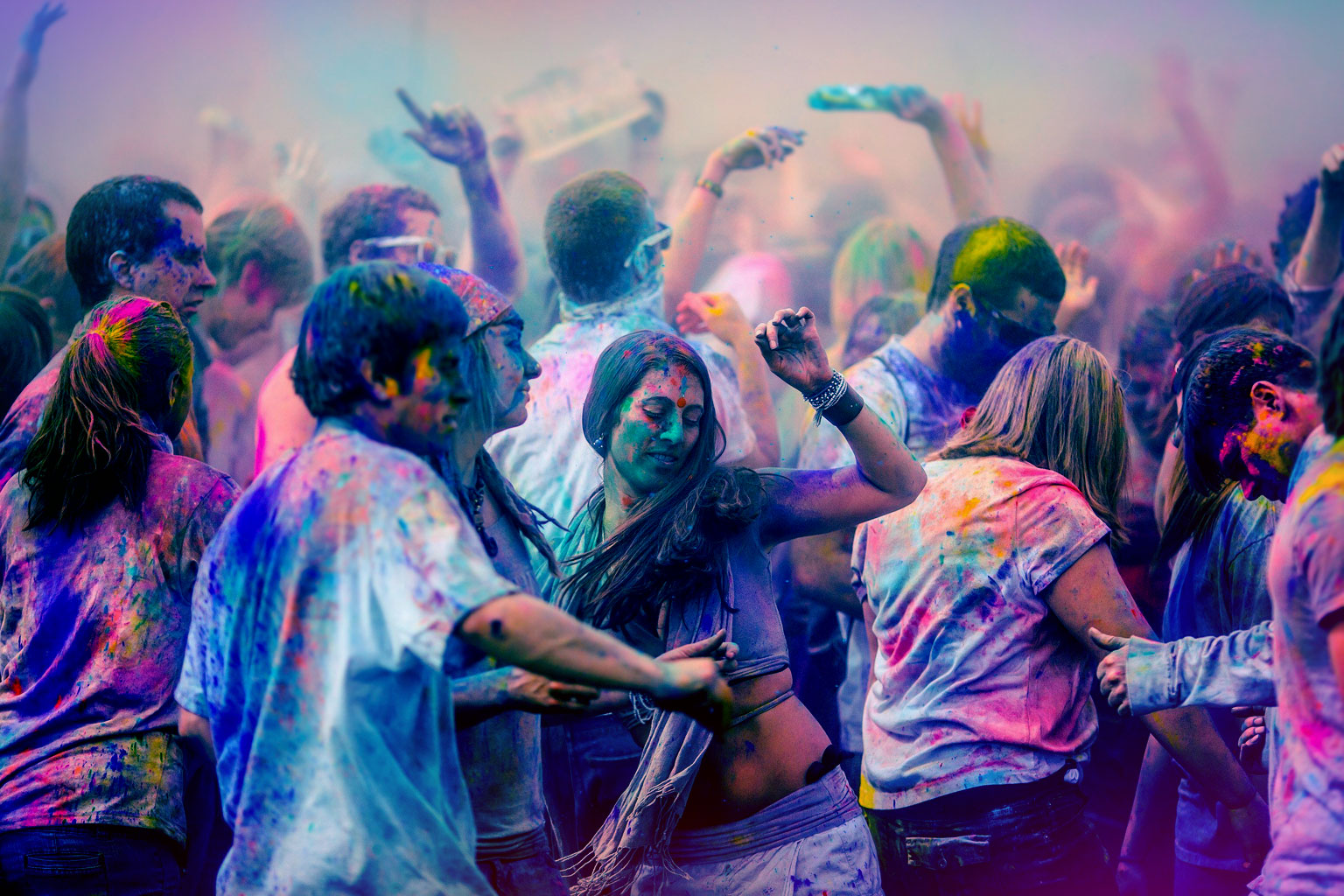 Holi is somewhat loud in Delhi and if you are planning to travel to Delhi this Holi, be ready to take colors and colored water from people if you are outside on the road. You can also get tickets to the Holi Moo Festival where more than 40 Indian and international performers will light up your mood. There are colors, music along with bhang lassi, street food, and sprays. The environment is safe, and innocuous colors are provided.
How to Stay Safe on Holi?
Here are some tips that you must keep in mind in order to stay safe on Holi:
Being a carefree festival, Holi allows unknown people to put colors on you. Make sure to not go outside alone during Holi especially for a woman, it is not at all safe.

If you are planning to celebrate Holi in Mathura or Vrindavan, the place stays jam-packed during the entire month so make sure to visit in groups, especially for foreigners.

Taking excessive amounts of 'Bhang' is not recommended as it may overpower you. Also, stay away from the males who have consumed it in high doses as they only look for chances to inappropriately touch women. 

You may also find an aggressive group of males roaming carelessly on the roads, avoid them as they are just out there to create a nuisance.

Be ready to get completely soaked in colors & water and make sure your sensitive boy parts like eyes are safe from all such toxins.
Stay Safe! Stay Colorful!