Everyone talks about Shimla as a famous hill station but fewer know that Kufri, 20kms away from Shimla, is the real beauty of this place. A quiet hill station located in the Himalayan range, Kufri was next on my travel list. I have seen people boasting about visiting Shimla during their vacation. But in my opinion, a trip to Shimla is incomplete if you haven't experienced the escapades of Kufri. So this time when I was planning a trip with five of my friends, I suggested them to begin the adventure at Kufri and end it with sightseeing at Shimla. Kufri has so much to do in terms of activities as compared to Shimla. Our hotel was also booked at Kufri as out of three days of our outing, I wanted to dedicate two days solely to this tiny hill station.
It was a weekend trip and we started off on Friday night from Delhi. It was going to be an 8-hour long journey but because of the excitement and spirit we had for the trip, we didn't realize how the time ran out. 
DAY 1- Waking Up to a Beautiful Sunrise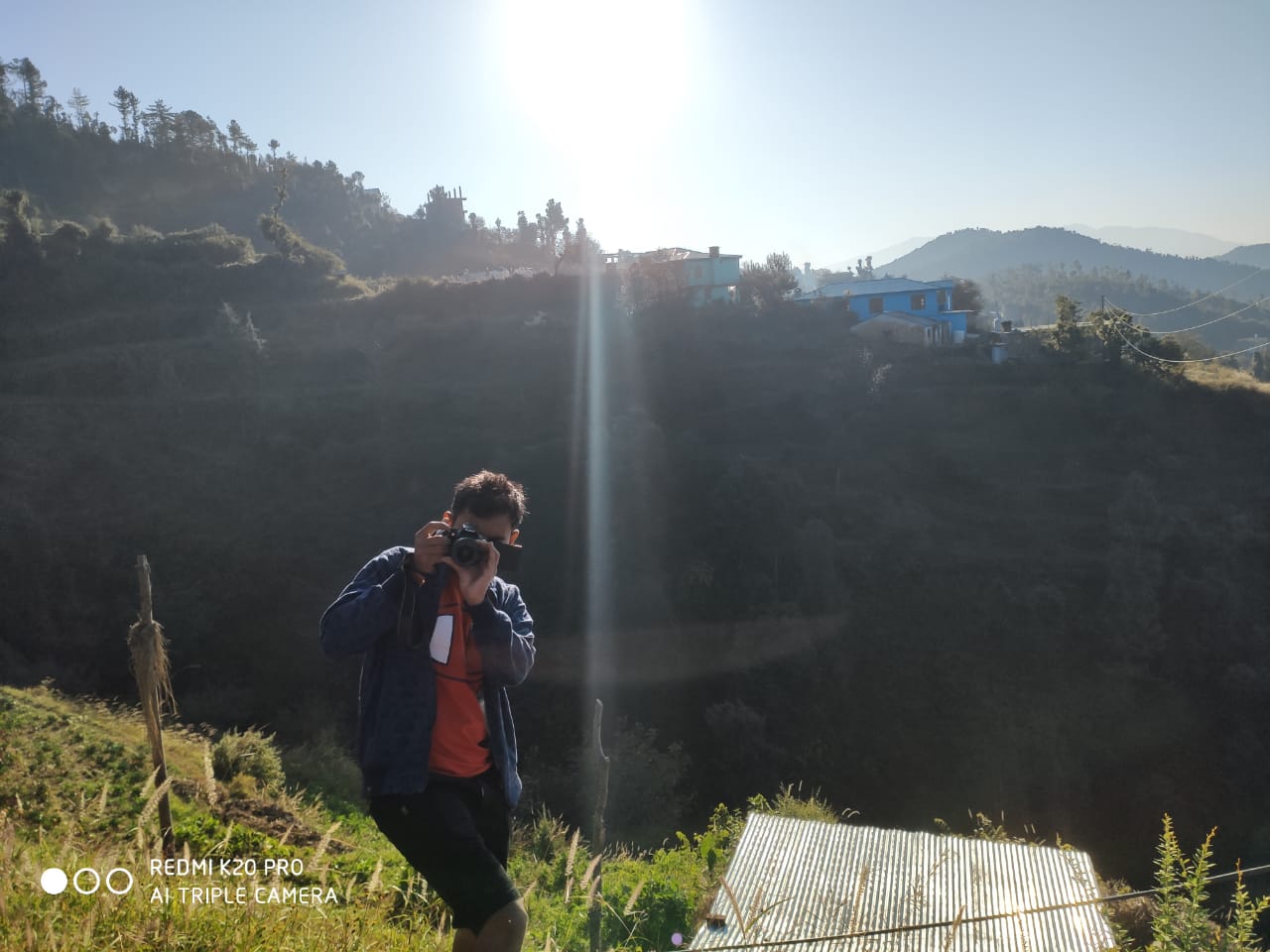 We woke up to one of the most beautiful Saturday mornings of our life. The chilly and sunny weather gave a refreshing start to the day and as soon as I checked into my hotel room, I was awestruck by the view I saw from my room's balcony. It was all hilly & green and downhill I was able to see some huts, probably a village. That very moment I made up my mind that we will begin our next day by trekking all the way down to the village and then way back to the hotel.
So we all got freshened up and stepped out for the adventures that were waiting for us. Our tour guide took us to the point where the most terrifying part of our journey was going to begin.
Horse Ride to Mahasu Peak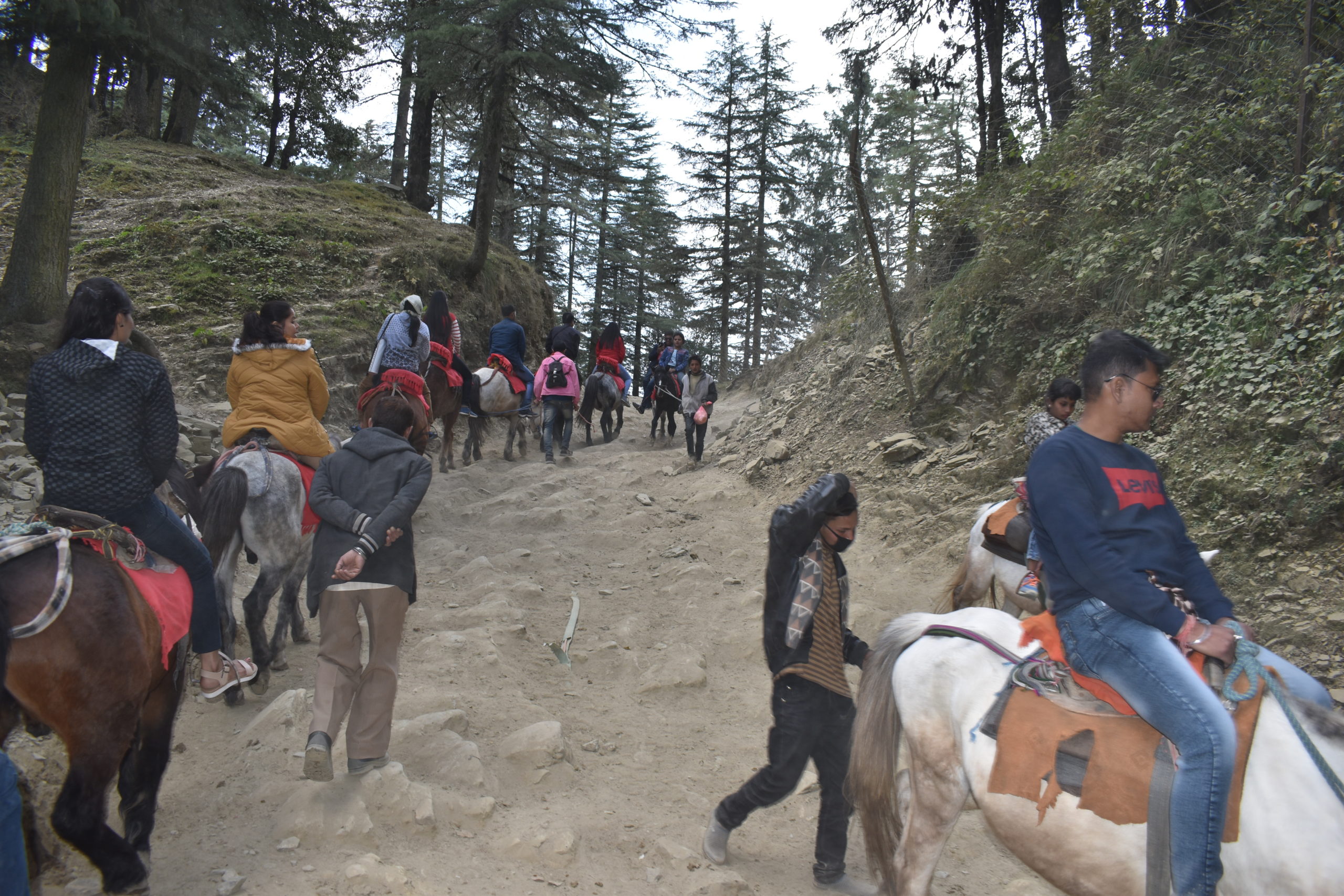 We hired the horses that costed us ₹500 each for our uphill ride to the Mahasu Peak. No kidding, those 15 minutes of your life are enough to restore your faith in God. The entire stretch was strewn with rocks, boulders, and stones. On one side there was a moat, deep enough to scare the shit out of you. Also, it entirely depends on the mood and prowess of your horse that if you will be able to reach the top safely. I saw some people ditched their horses halfway as they were not comfortable with the tremors they were feeling in their back. So if you have a really weak heart or spine, this is not for you.
Talking about the horse I was riding on, I don't know what the heck was wrong with him that he blindly followed the horse of my colleague or maybe he was not trained enough to create his own path. Also, some of the horses seemed over-trained as they were busy in surpassing other horses as if there was a competition going on. In the beginning, I was petrified about falling from the horse but by God's grace, I landed safely at the destination.
Note- To avoid the madness of the place, you must go early in the morning for the horse ride and after spending an hour or so, come back before 11 a.m. The rush keeps on increasing with every passing hour.
Safety Tip- Don't try to capture this adventure on your phone as a slight inadvertence may cause you the biggest accident of your life.
Kufri From the Top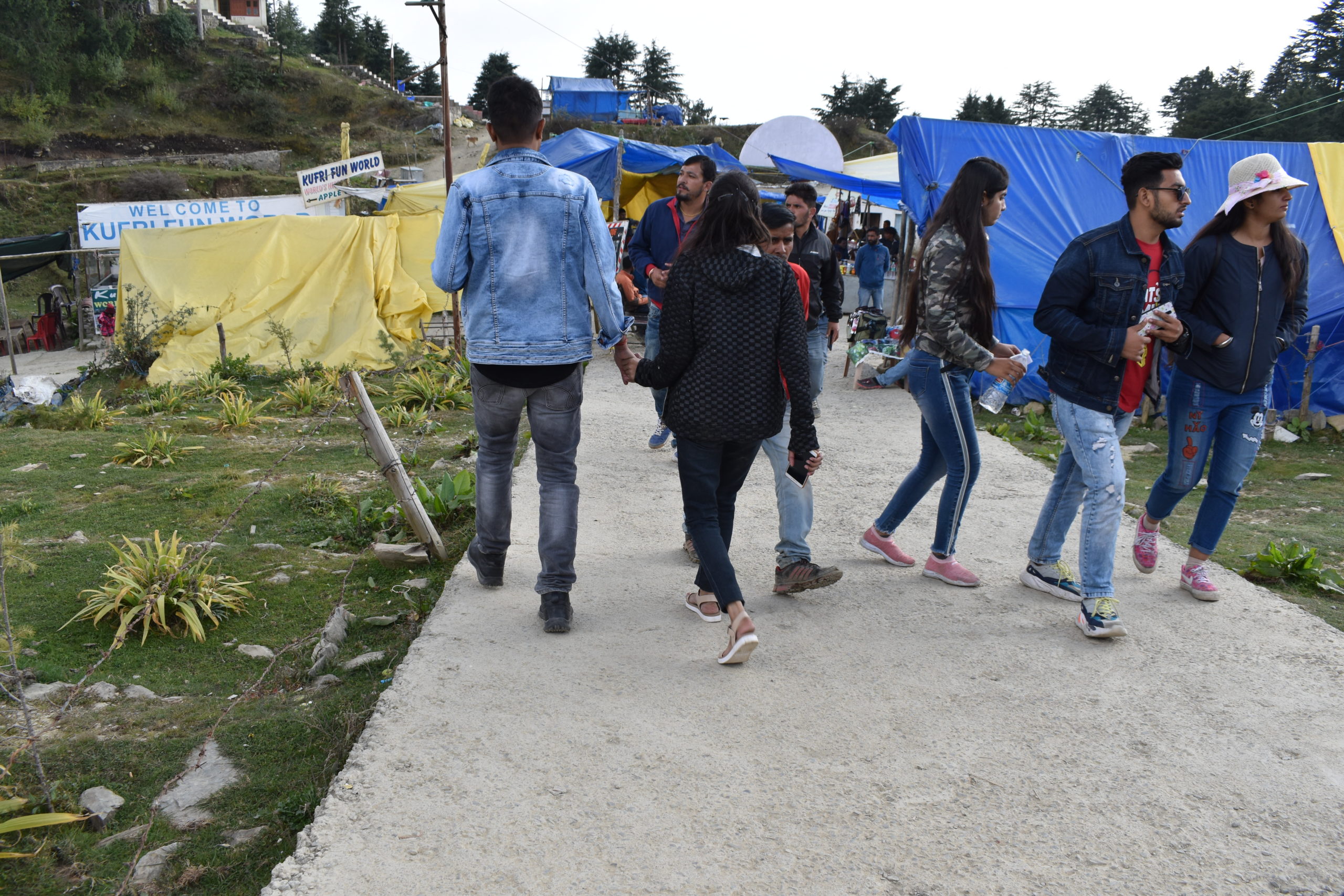 Upon reaching the top, I glanced over the place and saw a bazaar where you can shop the souvenirs, however, I didn't feel the urge to spend some bucks on anything. The finger-licking Maggi and the sultry tea were enough to calm down our spines after the shaky ride we were on. We also moved towards the famous 'Nag Devta' Temple (the God of Snakes) that was closer to the tea stall. 
Yak Ride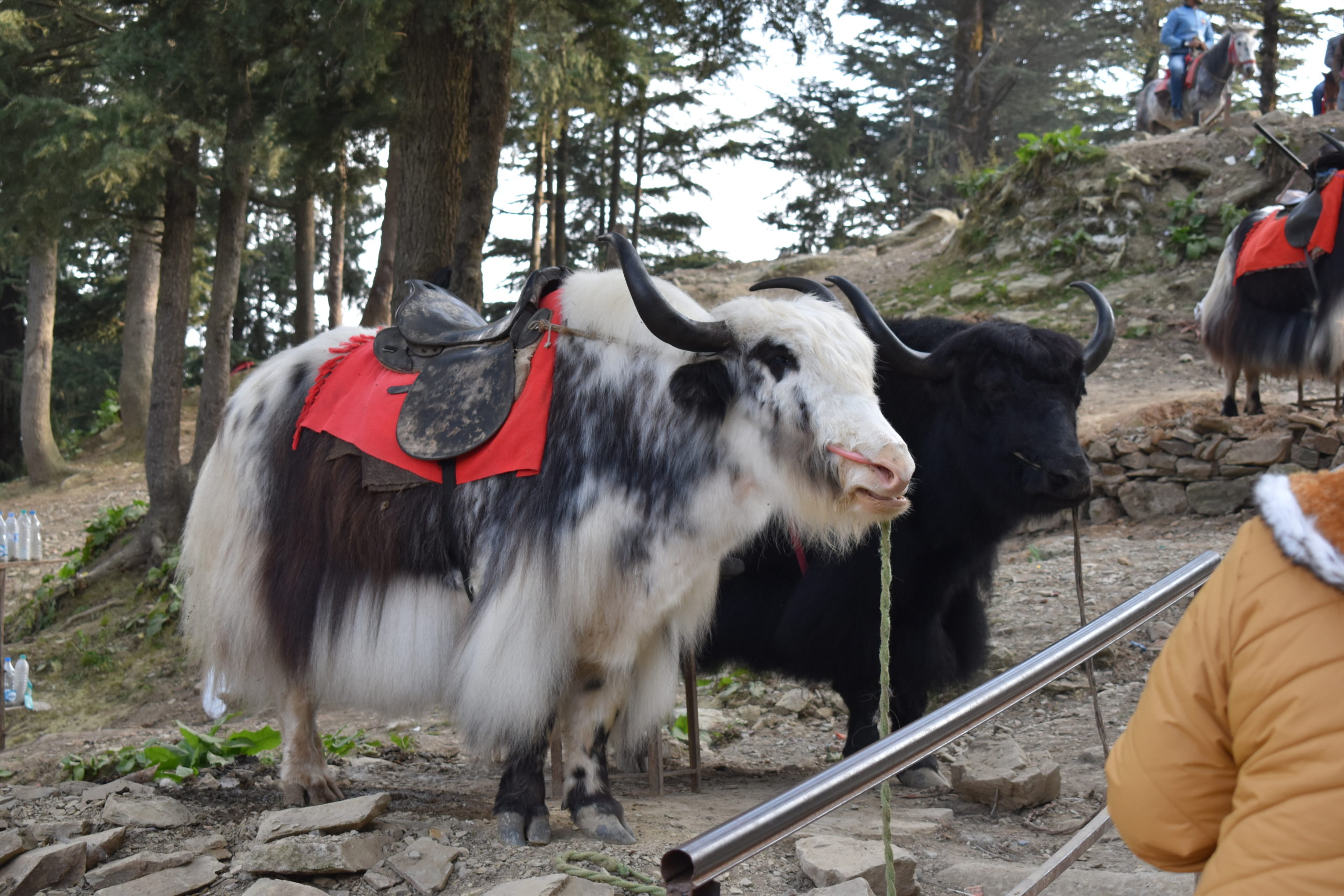 You also get a chance to get up close and personal with Yaks and get the pictures of your lifetime. However, none of us was interested in spending 500 bucks just to get clicked on a Yak with a hat and a gun. It took us around 4 hours from 12 p.m to 4 p.m to cover most of the Kufri. The guide took us back to the hotel where we had our dinner and while discussing the events of the day, everyone fell asleep. 
DAY 2- Let's Go Trekking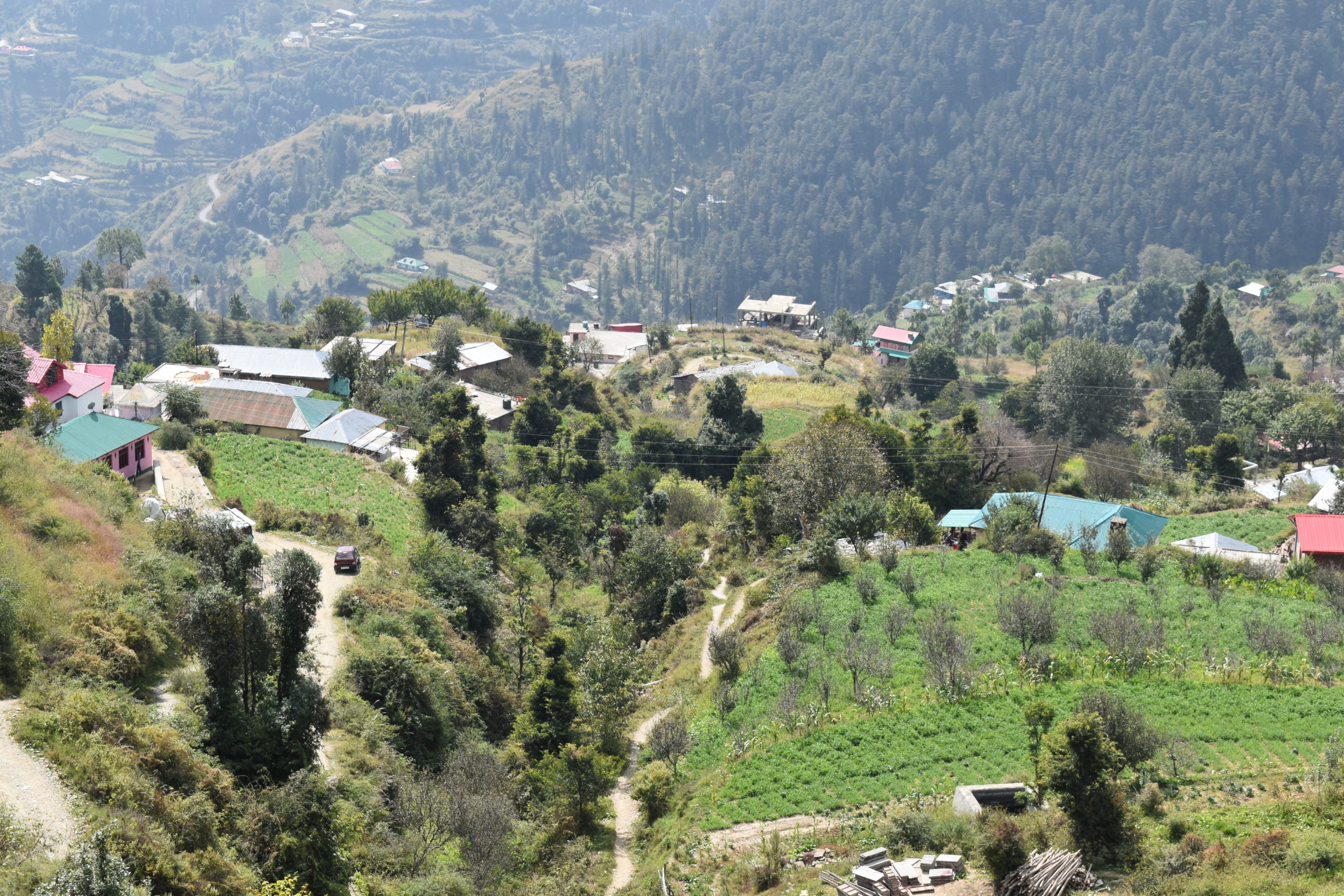 As planned already, we started off the day with the trek to the village downhill.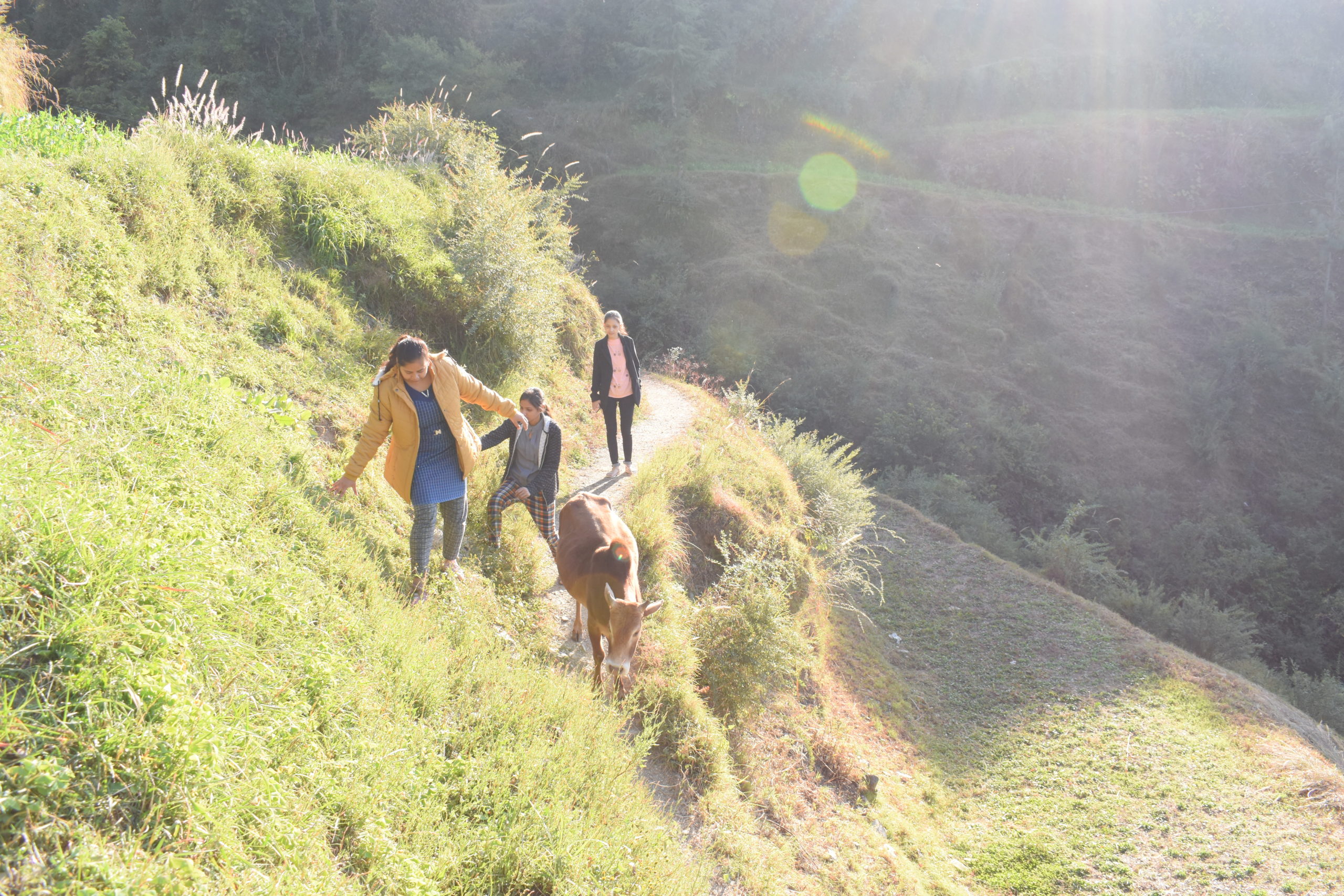 Upon reaching down, we knocked on a door and asked for tea. The lady who opened the door welcomed us open-heartedly. She warmly welcomed us with a refreshing cup of hot tea. We sipped our tea alongside talking about the beauty of the place.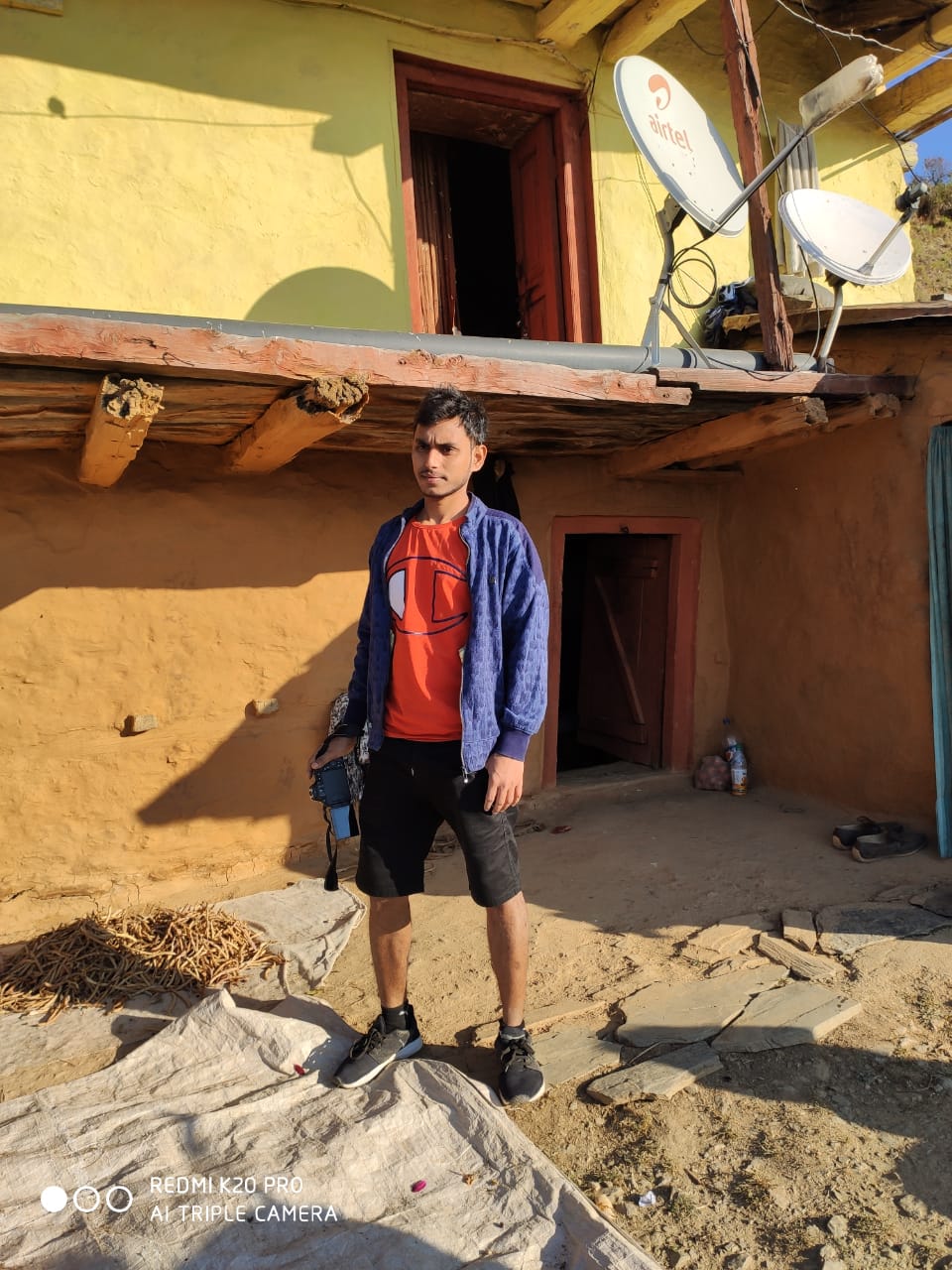 But the homely atmosphere took a wrong turn as soon as we tried to give some money to the lady who offered us tea. She was so annoyed and said that if it was about money, she shouldn't have offered us tea in the very first place. We all regretted our decision of giving her money in return for her kindness. This was a pure example of big-hearted villagers who have so less but still, they welcome their guests with open arms even if it is a complete stranger. We thanked her and proceeded towards the return journey. Three of us preferred the hilly route to the top to get the feel of real trekking while the remaining considered the same route to be safe.
Fun Activities at Hip Hip Hurray Amusement Park Kufri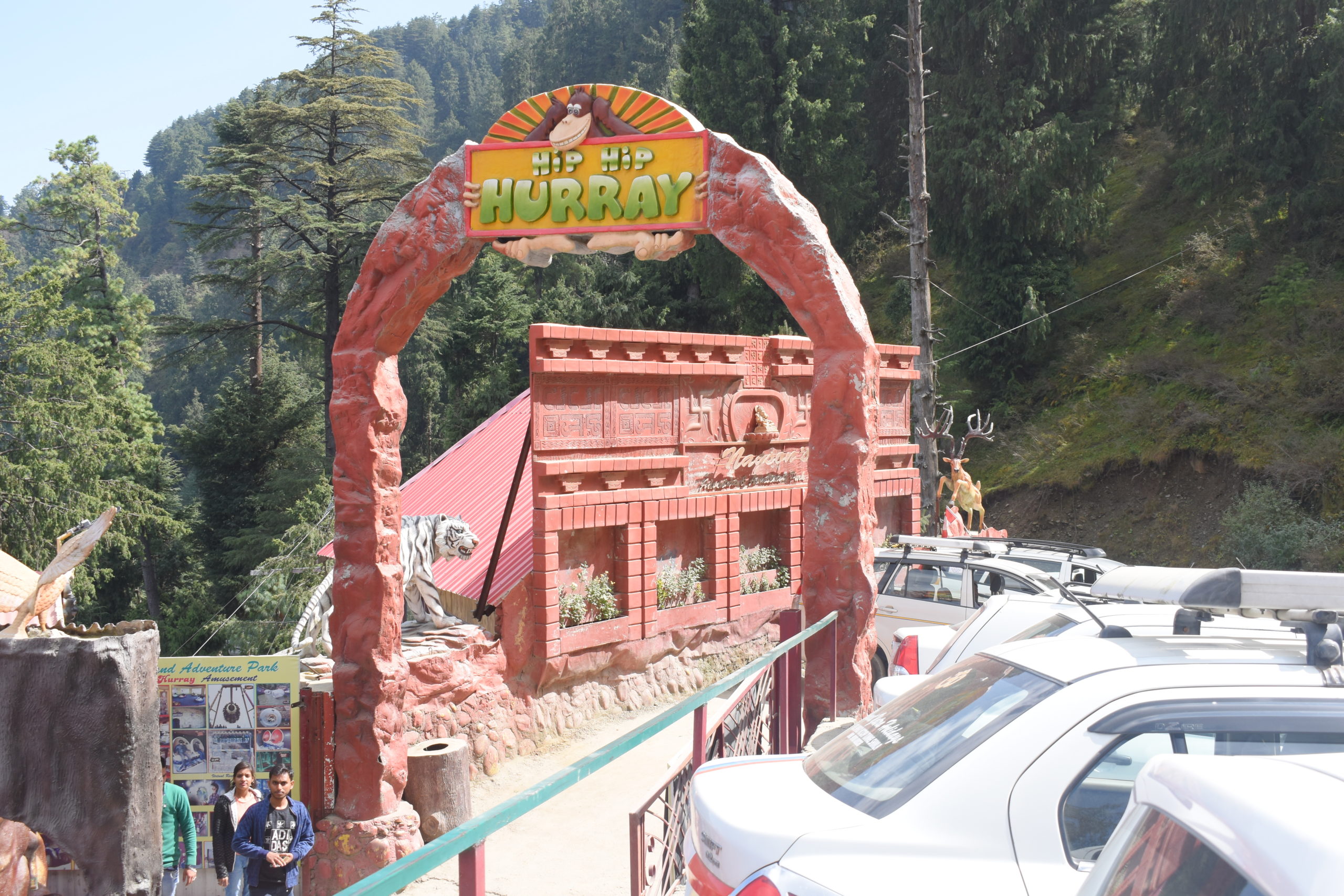 Thereafter, our tour guide took us to a nearby amusement park namely 'Hip Hip Hurray'. This park has everything from adventure to recreational games. We bought a combined package of ₹1000 each which included a lot of fun activities. 
Rope Slide
To begin with, we went for 'Rope Slide' that was quite easy to do for all of us. You will be attached to the rope and whoosh! The next moment you will found yourself at the bottom in a blink of an eye.
Wall Climb
Next in order was 'Wall Climbing' that only two of us went for. It is really tough and no one is able to reach to the top as told by the person-in-charge. The same thing happened with my friends and they too returned midway.
Reverse Bungee Jumping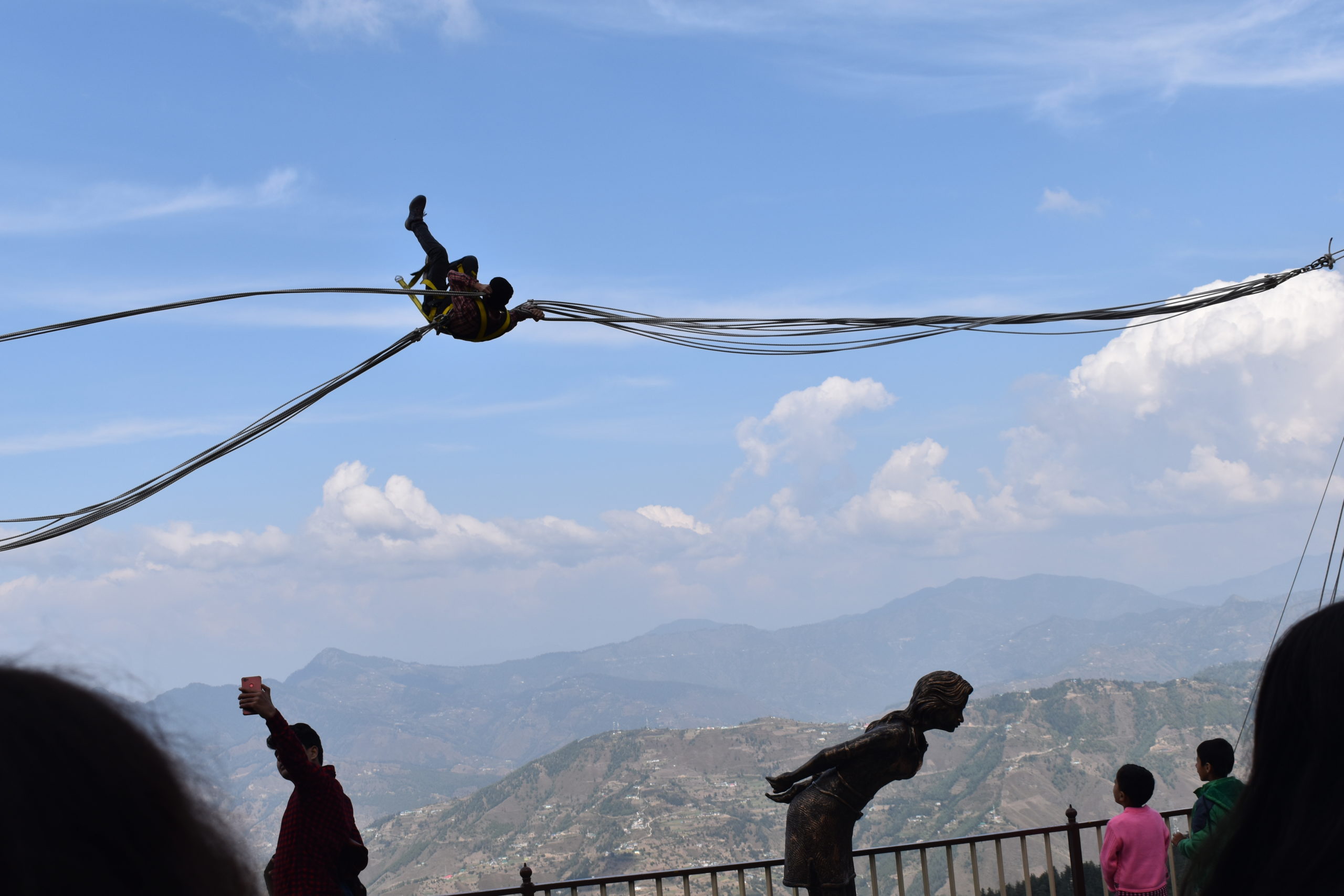 After that, it was the turn for the famous 'Reverse Bungee Jumping'. Only two of us showed the audacity to try that. I dropped the thought of doing it after watching one of my friends getting whirled in the air and he was shivering even after getting down.
Giant Water Ball
Some of us also tried the 'Giant Water Ball' that was also fun and a unique thing to try.
Gaming Zone
There was a 'Gaming Zone' as well where we tried our hands on a number of video games like Basketball, Car Racing, Skiing and much more. 
Maze
On moving further, there was a 'Bhoolbhulaiya' (maze) made up of lights and mirror walls. Thereafter, we also watched a 5D movie which was an eccentric experience in itself. 
Dance Floor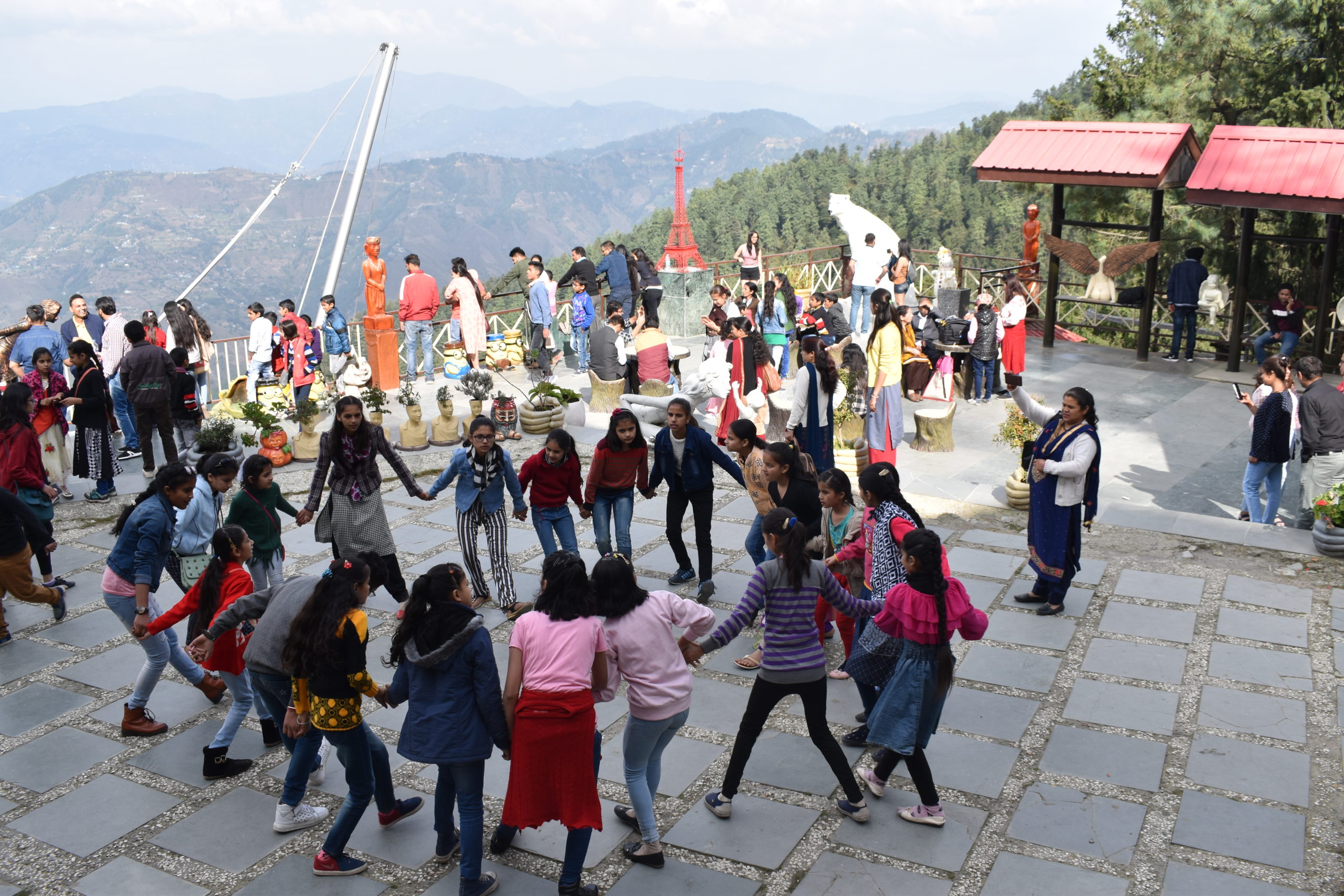 Next, we saw a dance floor that was for kids only. But still, we somehow managed to dance our hearts out to two-three Bollywood numbers and clicked some pictures as well. After taking a few more rides we started off to go back to the hotel. I think for ₹1000, we all had a lot of fun and it was a fulfilling day for me.
On the way back to the hotel, we stopped at an eatery, had some Maggi and tea, and danced again. On stepping into our hotel room, all of us were really tired and hungry. We ate up to the neck, discuss the happenings of the day and dozed off.
Day 3- Sightseeing At Shimla
In the beginning, I told you that it was a weekend trip but we extended it to Monday so as to have some fun in Shimla as well. 
Jakhu Temple
We all got ready in the morning and headed towards 'Jakhu Temple' in Shimla. This temple has the largest statue of God 'Hanuman' in the world, so I was keen on visiting this place ever since I heard about it. It was almost a 40 minutes' drive from Kufri. I found the surroundings of the place very calm and I could spend hours sitting there if time allowed me.
There were several monkeys that are said to be descendants of Lord Hanuman. They will not harm you but they will definitely snatch the Prasad from your hands, so be watchful.
Lakkar Bazaar of Shimla
Someone told me about 'Lakkar Bazaar of Shimla' where you can buy some wooden handicrafts but as no one was interested so we skipped that and moved towards the mall road of Shimla. Our plan was to just roam around the mall road and explore whatever comes our way. 
Johnnie's Wax Museum
First, we went for Johnnie's Wax Museum and the entry fee was ₹250 per person. I have always heard about London's Wax Museum and it was my first time visiting one, so I was really excited about the statues of famous personalities I was going to see inside. 
To our surprise, the museum had wax statues of 16 personalities from different backgrounds. At the entrance, there was Mahatma Gandhi. We all rushed towards the statue of our favorite stars. There was everyone from Paul Walker to Honey Singh, and from Steve Jobs to our Prime Minister Narendra Modi. It took us more than half an hour to get clicked with each of the stars. Statues of Barack Obama, Johnny Depp, Michael Jackson, Amir Khan, Harry Potter, James Bond, Tony Stark, Dwayne Johnson, Lionel Messi, Justin Bieber, and Salman Khan were also there.
Christ Church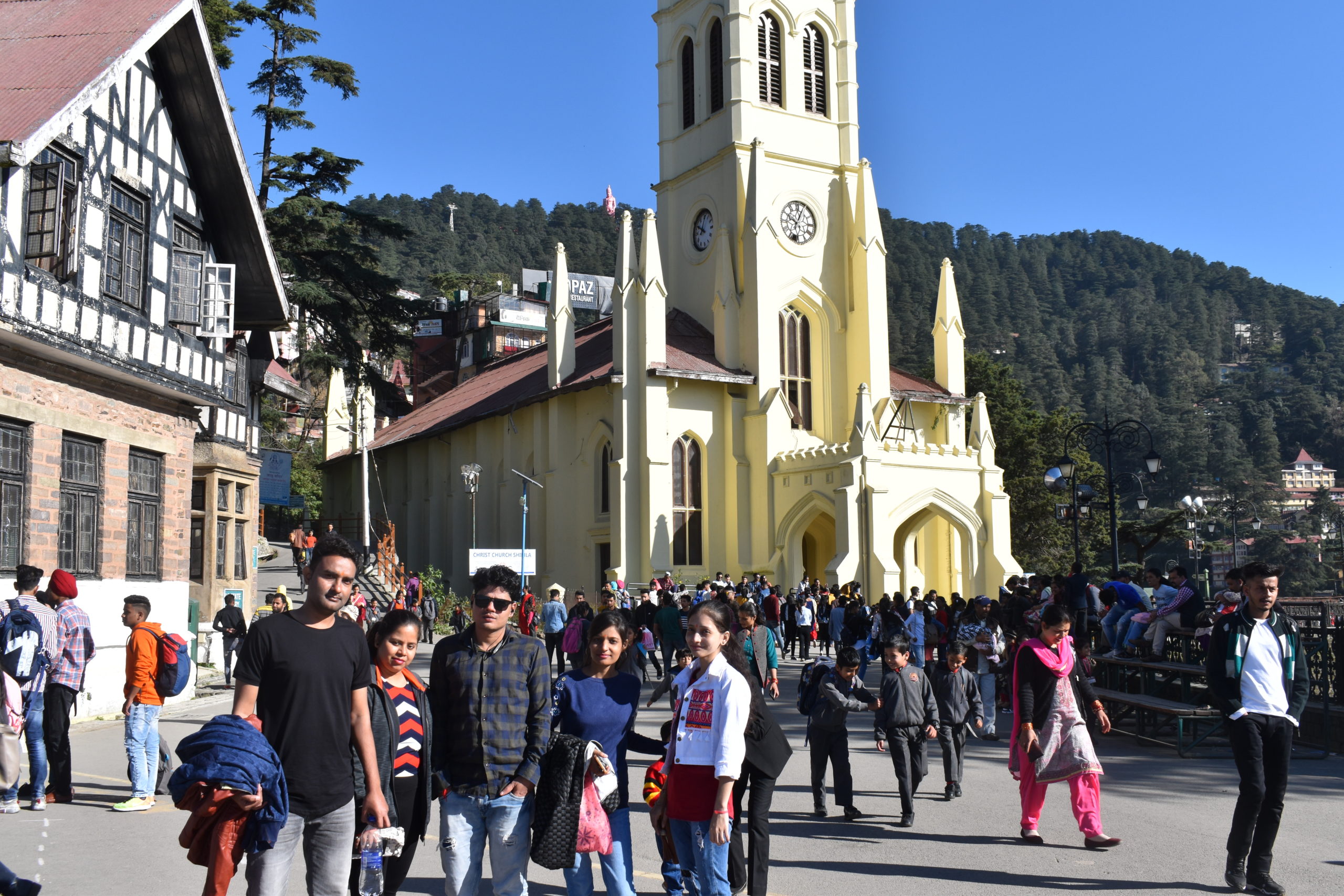 After we were done with the Museum, we got some snacks and strolled towards the 'Scandal Point'. Here we witnessed the best sunset of our life and after relaxing for a while headed towards the 'Christ Church'. Lord Hanuman statue was so tall that it was peeking from behind the church. It is the best place to visit in India.
For the time remaining, we strolled on 'The Ridge' that gives the best view of the 'Jhakoo Hills'. 
Return Journey to Delhi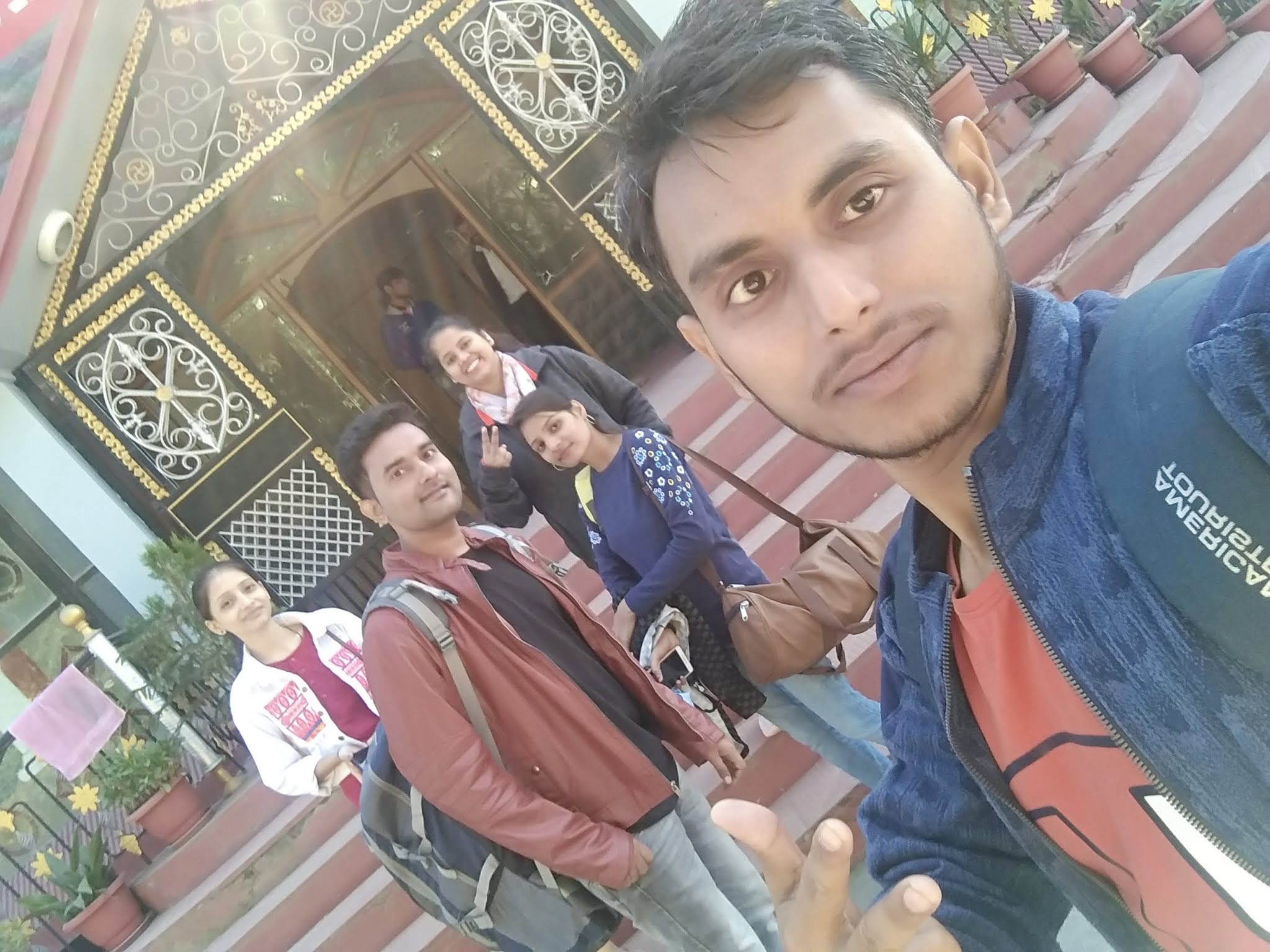 Our journey was about to end so everyone was buying something to take home as a memory. It was starting to get really cold and we all were shivering so we headed towards our journey back to Delhi. No one was happy to leave this beautiful place so soon but still, we had to. I would recommend everyone to visit Kufri once in their life if you ever go to Shimla. For me, these three days gave my boring life a fresh kick-start. 
Here are some quick tips from my personal experience if you are planning to visit Shimla or Kufri:
If you are looking for an adventurous trip, make sure to dedicate more time to Kufri as the main attractions of Shimla can be easily explored in just one or a half-day. 

Wear solid footwear to have the real fun of trekking in Kufri and while strolling on the mall road of Shimla as you need to walk a good distance to explore this beautiful hill station.

Even if you are visiting the place in a cold season, it is always better to keep a water bottle handy. Don't let your body get dehydrated.

The place is bitterly cold at night, so don't forget to carry at least one warm jacket. 

People prone to motion sickness must carry some medications with them.

If possible, book the hotels and other packages in advance through an official source as some locals may even try to con you especially the

foreigners traveling India on their e-Visa.